98-Year-Old Grandma Meets Her Great-Great-Great-Grandchild – Amazing Story of 6 Generations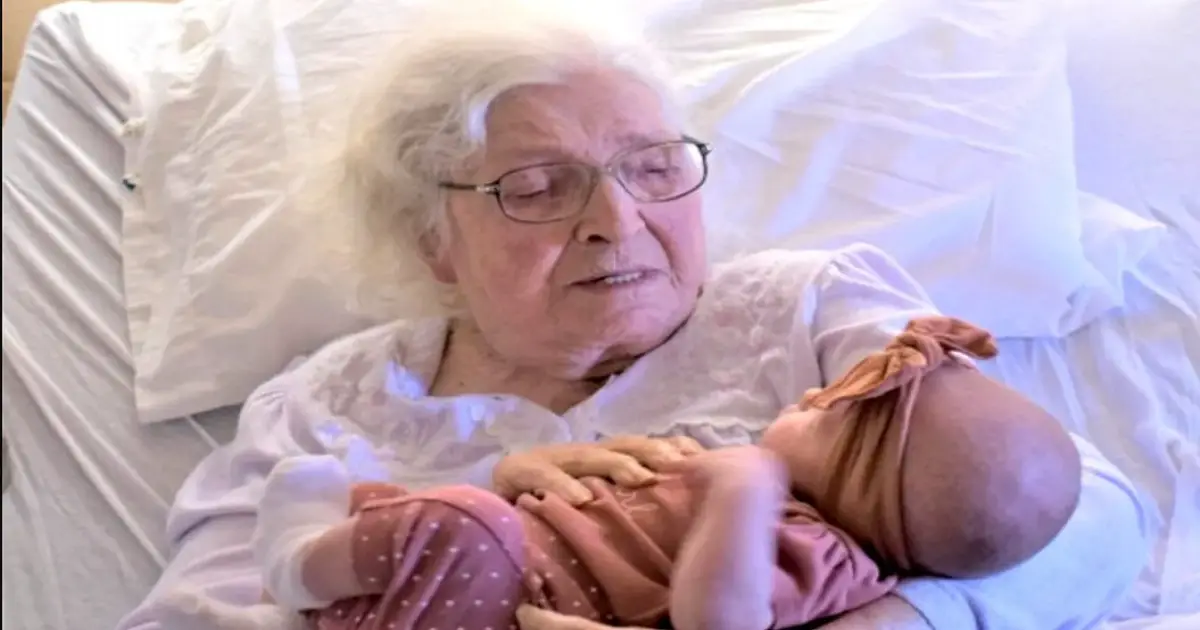 In a heartwarming family reunion, a 98-year-old matriarch finally had the joy of meeting her first great-great-great-grandchild. MaeDell Taylor Hawkins, a resilient and loving woman from Kentucky, held seven-month-old Zhavia Whitaker in her arms this past February. The precious moment was captured in a photograph that quickly went viral, highlighting the incredible bond shared by six generations of women in the family.
MaeDell Taylor Hawkins is an extraordinary woman with an expansive family. With over 620 grandchildren today, she has left a lasting impact on the lives of many. Married at the young age of 16 to a 50-year-old railroad worker named Bill Taylor, MaeDell faced many challenges in her life. Despite living without modern conveniences such as a washer, dryer, or running water, she never complained about her circumstances. Her positive attitude and unwavering love have inspired her descendants and created a legacy of resilience.
The viral photograph features MaeDell, her daughter Frances Snow, granddaughter Gracie Snow Howell, great-granddaughter Jacqueline Ledford, great-great-granddaughter Jaisline Wilson, and the newest addition to the family, great-great-great-granddaughter Zhavia Whitaker. Gracie, who shared the photo, expressed how special the moment was, noting that it was a unique gathering of all girls. The love and support radiating from MaeDell to her descendants are evident in the image, showcasing the strong bonds that have been forged over time.
MaeDell's family tree has flourished through the generations, spreading across the United States. According to reports, she has an astounding 106 grandchildren, 222 great-grandchildren, 234 great-great-grandchildren, and 37 great-great-great-grandchildren. The remarkable growth of her family is a testament to the enduring love and care that MaeDell has bestowed upon each generation.
MaeDell will celebrate her 99th birthday in July, marking another milestone in her extraordinary life. Her family's joyous reunion with little Zhavia was just the beginning. Gracie Howell expressed hopes of gathering once again in June for another photograph, provided everyone's well-being allows. This ongoing tradition not only showcases the growing number of family members but also serves as a reminder of the enduring love that MaeDell has shared throughout her life.
The heartwarming story of MaeDell Taylor Hawkins and her first great-great-great-grandchild, Zhavia, shows us the incredible power of love and family. MaeDell's resilience and selflessness have left an indelible mark on her extensive family tree. As they come together across six generations, the bond between these women serves as a beacon of strength, support, and happiness. May MaeDell's legacy continue to inspire generations to come, reminding us all of the importance of love and family connections.