A Little Boy's Feet 'Melted' Playing At A Splash Pad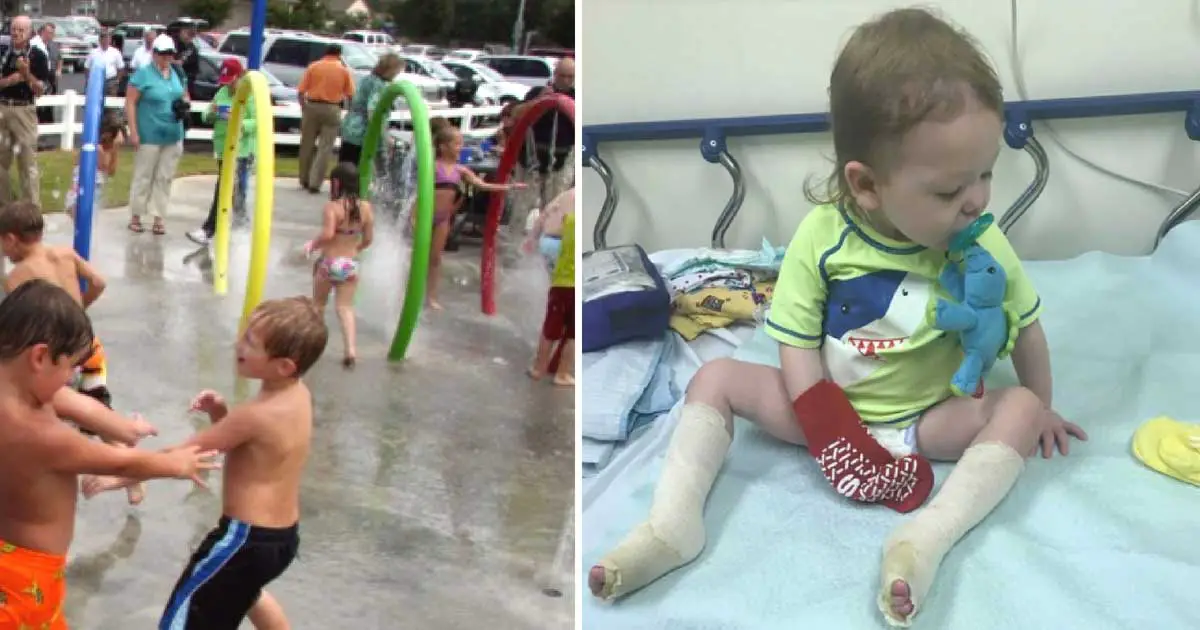 If you have young children, you've probably taken them to your local splash pad on a hot summer's day. All of the kids are running around in bathing suits and barefoot, so you've probably never given their splash pad attire a real thought. However, one dad is sharing his splash pad experience in the hopes that instances like his son's accident can be prevented.
Andrew Sechrist, a father of four from Seattle, took his children to their local splash pad to cool off on a hot day. "Everything was going well for about 15 minutes," Andrew explained, until his 17-month-old son, Jackson, began crying.
"I saw Jackson off to the side, about five feet from a water toy," Andrew said. "I ran over, thinking he had fallen, to console him. I picked him up and took him to a different section of the water area, but he was still inconsolable."
Andrew then sat down with Jackson and began to dry him off, but noticed that something was very wrong when he felt Jackson's feet. "I could feel the heat coming off of them," Andrew said. "I looked down and noticed that the skin had basically melted on the bottoms of both of his feet."
As it turned out, Jackson had walked across a metal electrical grate that was on the ground close to the splash pad area. In the immense heat, the temperature of the metal had risen to over 100 degrees. Andrew's wife took home their other three children while Andrew whisked Jackson off to the hospital.
After being seen by a burn specialist, doctors revealed to Andrew that Jackson had suffered second-degree burns on the bottoms of his feet. They drained Jackson's blisters and bandaged his feet up. "All in all, it was an extremely difficult 24 hours for a 17-month-old kid," Andrew said.
Jackson will have to wear the bandages for the next 10-15 days, but is fortunately recovering well. "My whole purpose of sharing this story is to get the word out to other parents so that this doesn't happen to anyone else," Andrew said.
Although splash pads may seem like totally harmless places, Andrew and Jackson's story should come as a warning to parents that we never know what dangers are lurking underfoot. When taking your children to the splash pad, it's always a good idea to dress them in water shoes or rubber sandals. Thanks to Andrew for sharing this heartbreaking yet important story, and we are hoping that little Jackson is back to his normal self in no time!