Elderly Man Surprises Wife at Airport with Chocolate and Flowers
Love knows no age limits, and a heartwarming incident at the airport recently proved that romance is alive and well, even in the golden years. Meet Bernard Mills, an 80-year-old gentleman who was caught on camera secretly waiting for his wife with chocolates and flowers, melting hearts around the world.
Bernard's wife, Carol, is 75 years young, and their love story is as cute and sweet as can be. Whenever they're together, it's as if they have eyes only for each other, and their bond is truly special. Recently, when Carol was away for two weeks, Bernard couldn't wait to surprise her with a heartfelt gesture that would let her know just how much he missed her.
The beautiful moment, captured on video by a kind-hearted woman named Valerie Jane, showcases the genuine love and affection between Bernard and Carol. As Carol walked through the airport terminal, her eyes met Bernard's, and a wave of emotions washed over them. It was a heartwarming sight to behold when they finally embraced, their love evident in every sweet gesture and smile.
The video quickly went viral, and it didn't take long for Bernard's granddaughter, Cherisa Fleming, to proudly come forward and share that this adorable couple was a part of her family. She revealed that Bernard and Carol had found each other on the dating site eHarmony back in 2010, after both of their beloved spouses of 50 years had passed away. It was a second chance at love that neither of them ever expected, but they embraced it wholeheartedly.
"My grandfather is such a sweetheart – not just on special occasions, but every day. He adores all of the women in his life, especially his wife!" Cherisa shared.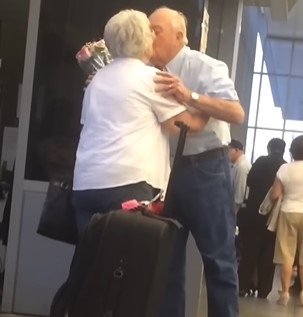 Bernard and Carol's story is a reminder that age is just a number when it comes to matters of the heart. Their love and devotion have stood the test of time, and they continue to cherish each moment they spend together. Whether it's a surprise at the airport or simply holding hands on a park bench, they never take their love for granted.
In a world filled with distractions and fast-paced living, Bernard and Carol's simple but profound connection reminds us to slow down, appreciate the small moments, and treasure the ones we love.
So, the next time you see an elderly couple strolling hand in hand or sharing a tender moment, take a pause and let it warm your heart. Keep in mind that love has no limits and can thrive at any age. Romance is alive and well, and it's up to us to keep it alive in our own lives too.