Exceptional 12-Year-Old Who Read Constitution at 2 Begins Second College Year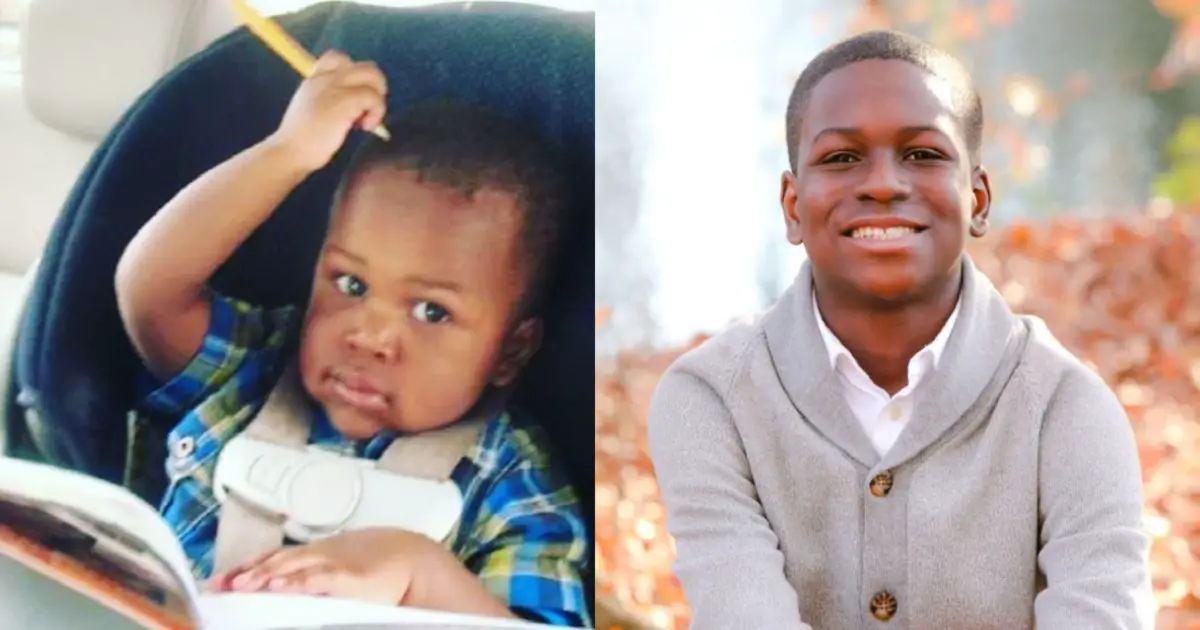 At just 14 years old, Caleb Anderson is on the verge of achieving a remarkable feat that sets him apart from his peers. While most kids his age are entering the 9th grade, Caleb is about to graduate from Georgia Tech as an aerospace engineer. His extraordinary journey perfectly shows his unwavering passion for learning and the support he has received from his parents, Claire and Kobe Anderson.
From a very young age, Caleb showed signs of exceptional intelligence. At just three weeks old, he astounded his parents by mimicking people talking—an early indication of his genius. Claire, recognizing her son's thirst for knowledge, decided to teach him to read as he was learning to talk. This alternative approach quickly captured Caleb's interest, and he soon became more engrossed in interacting and learning than in playing with baby toys.
By the time Caleb turned one, he had already mastered sight words and displayed a keen interest in mathematics. His parents knew then that their son was special. At the tender age of two, while other toddlers were babbling and exploring toys, Caleb was already delving into complex concepts like fractions. A video of him reading the United States Constitution at just two years old went viral, drawing both awe and skepticism from those who witnessed it.
Caleb's intellectual prowess continued to flourish. At the age of three, he qualified for MENSA, a prestigious society for individuals with exceptionally high IQs. He later enrolled when he turned five, surpassing first grade. In addition to his remarkable aptitude for academics, Caleb is also fluent in three languages: Spanish, French, and Mandarin. By the time he reached the age of nine, he found himself studying at a seventh-grade level.
Recognizing that traditional schooling was not challenging enough for Caleb, his parents made the decision to allow him to skip high school entirely and enroll directly in college. With his father as a chaperone, Caleb embarked on his college journey at Chattahoochee Technical College, completing his first two years there. When he turned 12, he applied to Georgia Tech as a sophomore, and unsurprisingly, he was accepted.
Now, at 14 years old, Caleb Anderson is preparing to graduate from Georgia Tech—an extraordinary accomplishment for someone his age. His remarkable journey doesn't end there, though. Caleb wants to do an internship with none other than Elon Musk and has aspirations of obtaining his Ph.D. from MIT. These are outstanding achievements for a young man who has shown an unwavering determination to pursue his dreams in aerospace engineering.
When asked about his experience in college, Caleb humbly stated that he doesn't feel like he's breaking barriers. Rather, he sees himself simply doing what he wants to do. However, he acknowledges the inspiration he brings to others and the role model he has become for many young people. Caleb's mother, Claire, emphasized that there are many children like Caleb who possess incredible potential, and they simply need the right opportunities and guidance to flourish.
Beyond Caleb's accomplishments, the Anderson family is an incredible example of the power of nurturing and supporting gifted children. Caleb's younger siblings, Aaron and Hannah, are also enrolled in gifted programs at their school, demonstrating that with the right guidance, young minds can reach extraordinary heights.
As Caleb Anderson prepares to embark on his next adventure, the world eagerly awaits the impact he will undoubtedly make in the field of aerospace engineering. His story is not only one of academic brilliance but also a reminder that age should never be a barrier to pursuing one's dreams. Caleb's journey is an inspiration to all, demonstrating the boundless potential of young minds when given the right opportunities to thrive.