Firefighter Dad Turns Around and Sees Baby Daughter Running for a Hug
Firefighters and families go together like s'mores and campfires! They're a dynamic duo that knows how to tackle challenges with bravery and love. When the fire alarm rings, these superheroes don their gear and rush to save the day. But behind those capes and helmets, they have families cheering them on, providing the strength and support they need. From adorable fire truck playdates to impromptu hugs at the station, the bond between firefighters and their families is unbreakable.
In a heartwarming incident that totally melted our hearts, a dedicated firefighter had an unforgettable encounter with his two-year-old daughter while on duty. Captain Dave Colson of the Glendale Fire Department had been responding to a call on his own street when his youngest child, Jenna, spotted him and couldn't contain her excitement. This precious moment captured the attention of social media users, spreading joy and reminding everyone of the importance of cherishing family bonds.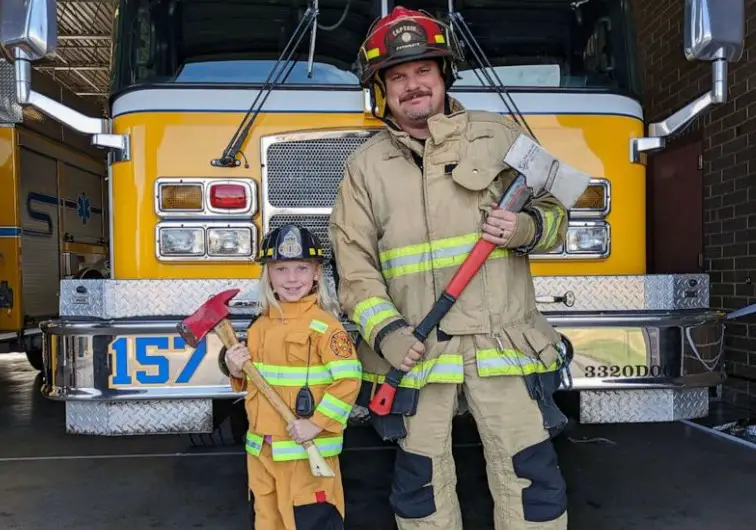 Captain Colson, a seasoned firefighter with over 20 years of service, had rarely responded to emergencies in his own neighborhood. On this particular day, his crew was handling a minor leak, while his wife and children watched from a distance. With the situation under control, Captain Colson decided to walk down the street to greet his family.
As he made his way towards them, he caught sight of his youngest daughter running towards him in a diaper-clad sprint. It was a scene he would cherish forever. The pure happiness on Jenna's face, her arms wide open, and her innocent anticipation for a hug from her heroic father touched Captain Colson's heart deeply.
The significance of the moment was not lost on Captain Colson. He shared that his children rarely had the opportunity to witness him in action as a firefighter, making this encounter all the more meaningful. The Glendale Fire Department was moved by the heartwarming incident and decided to share the captured moment on their Facebook page, acknowledging the importance of family support in the lives of firefighters.
The Facebook post quickly gained traction, garnering over four thousand reactions and a thousand shares. Users flooded the comments section, expressing their delight and sharing their own parenting experiences. One user summed up the sentiment by stating, "When daddy needs a hug!!! This is what family and life is truly about!!" Another user described the moment as "the sweetest and absolutely precious" highlighting the rarity of such heartwarming interactions between parents and children.
The power of social media allowed this touching story to reach a wider audience, spreading positivity and reminding people to cherish the special moments with their loved ones. As we navigate through the ups and downs of life, let us not forget to pause and embrace the joy and warmth that family brings.