Florida Deputy's Heartwarming Reunion with Baby Girl He Delivered on Highway Will Melt Your Heart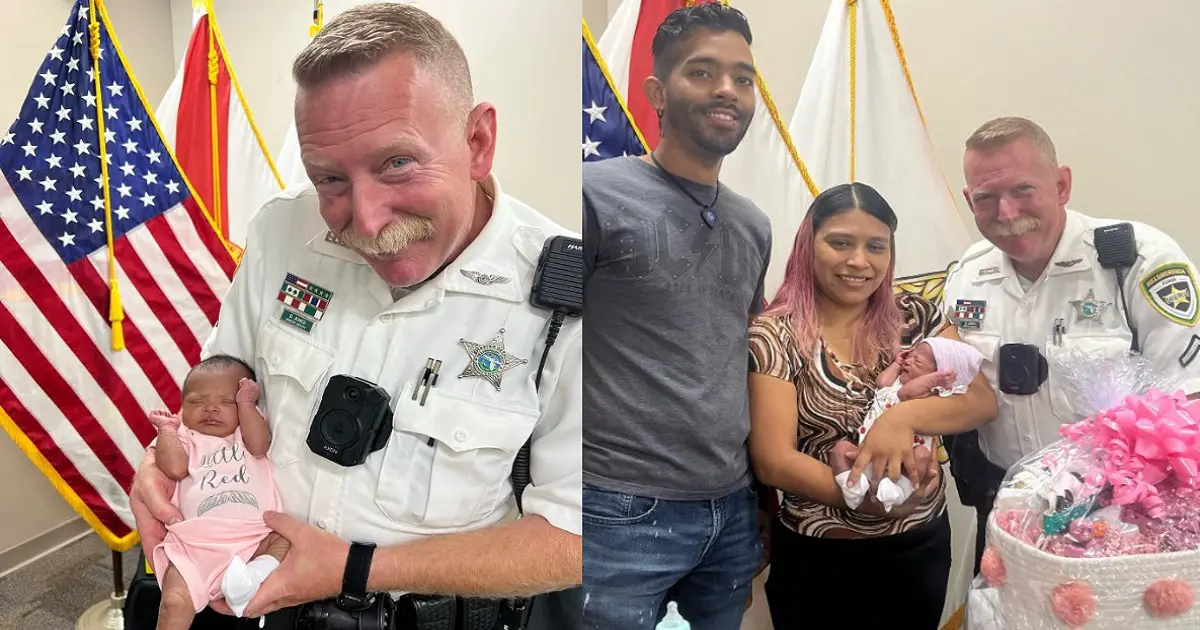 A heartwarming reunion took place last week as a Florida sheriff's deputy, Deputy "Red" Jones, was reunited with a baby girl he helped deliver on the side of a highway. The extraordinary event unfolded when Deputy Jones was flagged down by a frantic motorist, whose pregnant wife was on the verge of giving birth.
Without hesitation, Deputy Jones jumped into action, providing assistance to the laboring mother. In a dashcam video shared by the Hillsborough County Sheriff's Office, Deputy Jones can be seen interacting with the mother, asking about her progress and jokingly remarking on her sixth child. His light-hearted banter not only relieved tension but also elicited laughter from the expectant parents.
Amidst the chaos, Deputy Jones continued to encourage and support the mother through her labor, ensuring she remained focused and calm. After a few minutes, a beautiful and healthy baby girl was born inside the car. Jones joyfully exclaimed, "Look at your pretty little girl!"
Following the birth, both mother and baby were promptly transported to the hospital for further medical care. The news of Deputy Jones's heroic actions spread, garnering praise from the community and beyond.
Sheriff Chad Chronister expressed immense pride in Deputy Jones's quick response and unwavering dedication to serving the community. The sheriff's appreciation reflects the bravery and selflessness exhibited by law enforcement officers who go above and beyond their duty to help others in need.
A few weeks later, a heartwarming reunion occurred between Deputy Jones and the newborn baby he helped deliver. Captured in a photograph, Deputy Jones proudly stood alongside the elated parents, with the little girl wearing a onesie that read "Little Red" and featured a mustache design akin to Deputy Jones's iconic facial hair.
The touching pictures were shared on the Hillsborough County Sheriff's Office Instagram page, with a playful caption that read, "No, her name is NOT Red, but 'Little Red' is a cool nickname! What do y'all think?!" The nickname quickly gained popularity among the online community, who warmly embraced it and openly expressed their admiration for Deputy Jones's courageous actions.
This heartwarming story serves as a reminder of the extraordinary efforts made by law enforcement officers each day. Deputy "Red" Jones's dedication to serving his community in any capacity, whether it be enforcing the law or assisting in the delivery of a baby, is a testament to the compassion and bravery that defines our modern heroes.
In a world often filled with negative news, the reunion between Deputy Jones and the baby girl he helped bring into the world brings hope and shows the positive impact individuals can have on one another. This remarkable event will undoubtedly be cherished by Deputy Jones, the family, and the entire community for years to come.