Kindergarten Girl at Graduation Goes Viral – She Takes the World by Storm!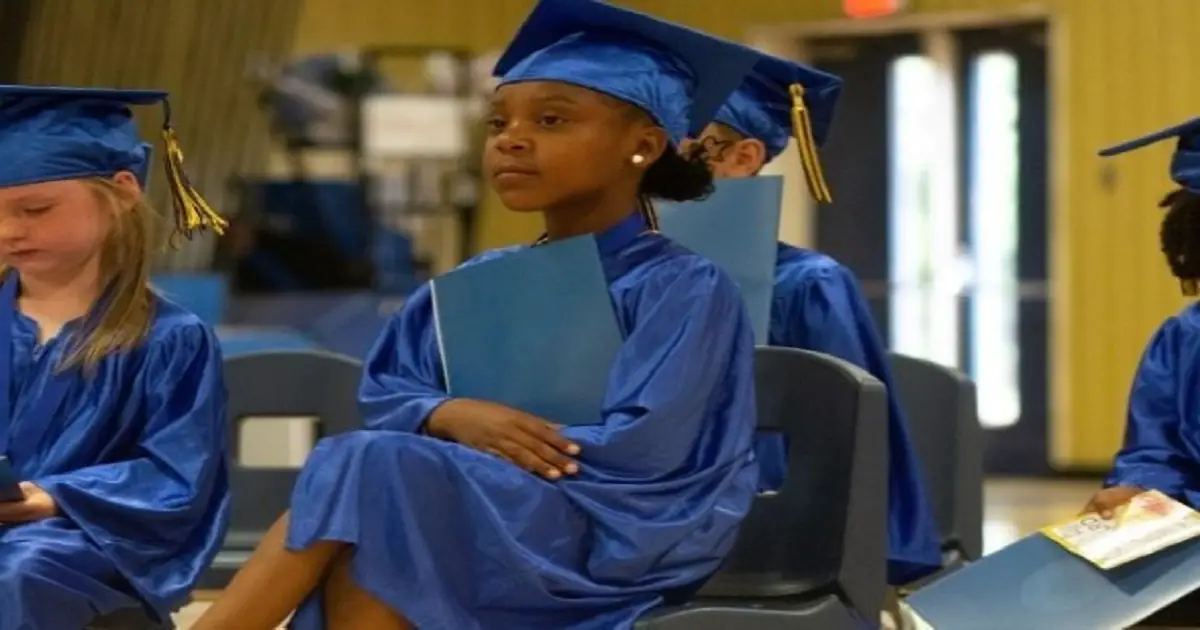 Move over, world, because Taylor Sims is coming for you! This extraordinary first grader from Bastrop, Louisiana, is capturing hearts and attention with her unstoppable spirit and fierce determination. In a photo that has taken the internet by storm, six-year-old Taylor stands tall and proud at her kindergarten graduation ceremony, dressed in a royal blue cap and gown, exuding confidence and poise that would make even the most accomplished adults envious.
The viral photo, which has been shared countless times on Facebook, has ignited the imaginations of people everywhere. Social media users are buzzing with excitement, envisioning a future where Taylor becomes the CEO of her own company, amassing a fortune that would make Scrooge McDuck blush.
The air is electric with the possibility that Taylor could be the next president of the United States. With her unwavering determination and fierce personality, it's not hard to see why so many people are inspired by her.
Taylor's mom, Lexii Sims, shared the graduation picture on May 24, and since then, the world has fallen in love with her daughter's spirit. Describing Taylor as "outspoken" and a "tough cookie," Lexii reveals that her daughter has always had a spark that sets her apart from others. "She's got sass to her—and she always has. She lives in her truth," Lexii proudly states.
Taylor's journey to this momentous graduation day has been nothing short of remarkable. Born prematurely, she defied all odds and emerged as a natural fighter. The doctors initially anticipated a lengthy stay in the neonatal intensive care unit, but Taylor had other plans. To everyone's surprise, she was ready to leave the very next day. It was a clear sign that Taylor Sims was destined for greatness.
Currently, Taylor dreams of being a princess who owns her own hair salon, but she's also expressed interest in becoming a police officer or paramedic. Her mother even envisions Taylor strutting down the runway as a model someday. According to Lexii, as soon as a camera appears, Taylor strikes a pose with confidence and flair, ready to captivate the world.
My baby on her way to 1st grade❤️ she so sassy lord cause why your legs crossed🤦🏾‍♀️ $lexiiS95‼️ Photo creds: lead photographer(Beekman Charter School )(a student) Demarcus Green!

Posted by Lexii Sims on Wednesday, May 24, 2023
Brittany Higginbotham, Taylor's kindergarten teacher at Beekman Charter School, wholeheartedly believes in Taylor's potential. Higginbotham describes her former student as confident, strong-willed, and resilient. "Taylor has never been afraid to have fun, show her personality, or to stand up for what she believes in," she shares.
As Taylor's photo continues to inspire and uplift people worldwide, one thing is clear: she's an unstoppable force ready to conquer whatever lies ahead. With her infectious energy, unwavering determination, and sassy spirit, Taylor Sims is set to make her mark on the world. So, watch out, because this rising first grader is going places—and she's taking all of us along for the exciting ride!