Kitten Overload: Louisiana Man Rescues One, Faces 12 More!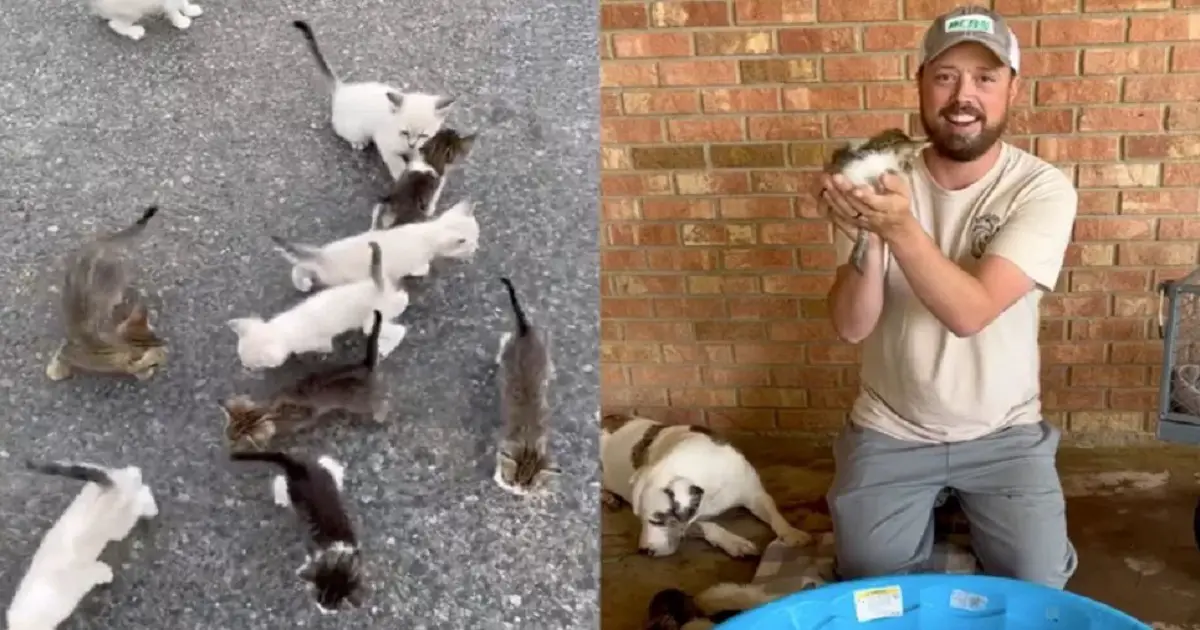 Prepare yourself for a heartwarming story that will leave you with a smile on your face. It all started on a sunny day in Pioneer, Louisiana, when a kind-hearted man named Robert Brantley spotted a lone kitten on the roadside. Little did he know that this simple act of compassion would soon turn into an adorable and unexpected adventure.
As Robert approached the tiny black, brown and white kitten, he couldn't resist lending a helping hand. He scooped up the little furball and proudly showed it off to the camera. However, within seconds, Robert's good deed took an unexpected turn. Out of nowhere, a swarm of kittens emerged, jumping and frolicking around him with excitement.
Caught off guard by the sudden ambush, Robert exclaimed, "Oh no!" as he realized he had stumbled upon an entire litter of kittens. Undeterred by the surprise, Robert embraced the moment and decided to rescue all thirteen of the adorable little felines. With a touch of humor, he joked, "I thought I was saving one, hot-diggity-dog!"
Robert wasted no time and quickly gathered the kittens, one by one, into his car. His vehicle soon became a lively haven as the chirping kittens roamed around, turning his "tactical Honda" into a temporary playground. With laughter in his voice, he shared his struggles of trying to keep up with the mischievous kittens as he attempted to load them all into his car.
Back at home, Robert and his family embarked on a mission to ensure the kittens' well-being and find them loving homes. Though initially unprepared for the sudden responsibility, they couldn't bear the thought of leaving these innocent creatures to fend for themselves. Robert's determination shone through as he lovingly cared for each kitten, nursing them back to health and showering them with affection.
In an Instagram post, Robert shared the kittens' bath time adventures, including an adorable video of little Scout getting cleaned up in a kiddie pool. Their journey continued as they found new homes for most of the kittens, keeping Ruby, Scout, and Milo as cherished additions to their own family.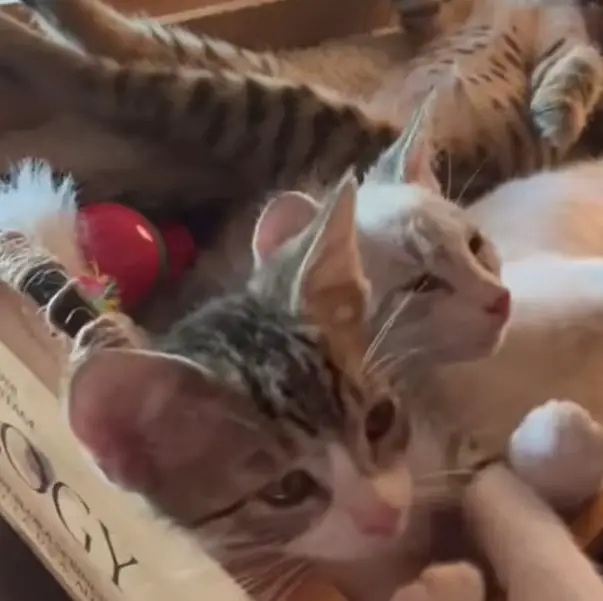 But the heartwarming tale doesn't end there. Inspired by their experiences with the kittens, Robert's wife, Courtney, extended her kindness to other animals in need. While attending to a dog and her newly born puppy at the very same spot where the kittens were found, Courtney discovered a litter of puppies. Unable to resist their adorable faces and recognizing their desperate need for help, she brought them into their loving home.
Robert joyfully shared their new endeavor on Facebook, revealing how Courtney and their children fed, bathed, and nurtured the eight rescued puppies. These tiny pups, once in dire straits, were now thriving thanks to the compassionate efforts of the Brantley family.
The story of the Louisiana kitten rescuer shows us that even the smallest gesture can have a tremendous impact on the lives of others. Through their compassion and dedication, the Brantley family has not only saved the lives of numerous kittens and puppies but also sparked a wave of inspiration and goodwill that will undoubtedly ripple through their community.