Little Girl Interrupts Troop's Welcome Home Ceremony to Give Her Dad a Hug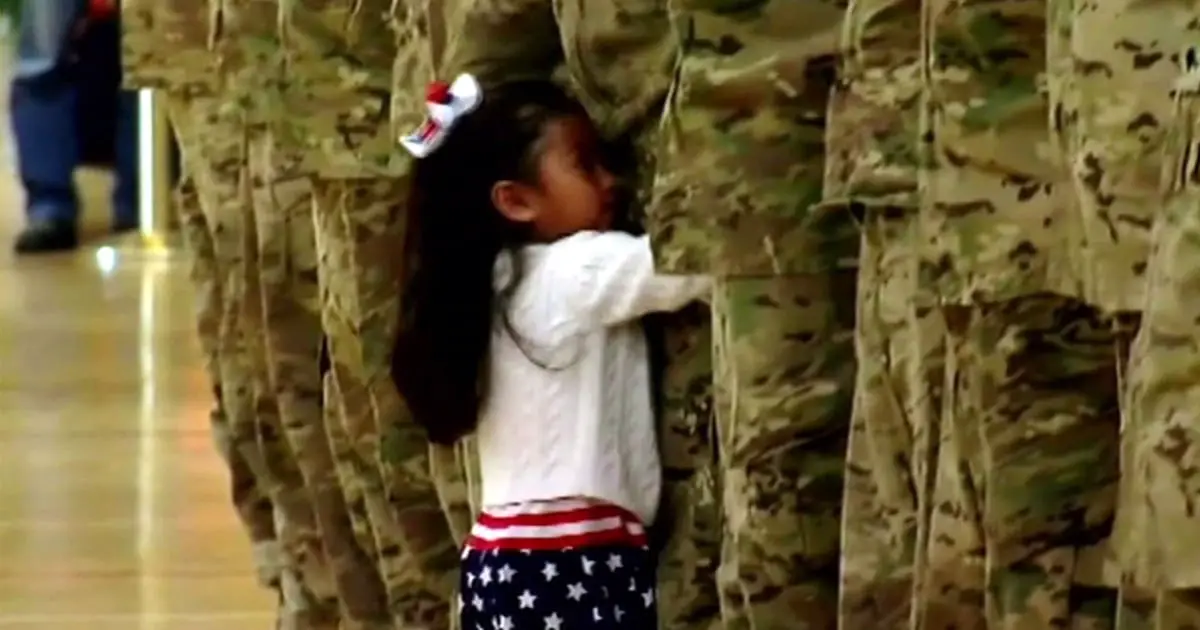 It was a day of celebration and emotions as troops were returning home from a long deployment. Loved ones had been eagerly awaiting their return, and a homecoming ceremony had been planned. However, what started as a solemn event soon turned into a heartwarming moment as a 2-year-old girl interrupted the ceremony to give her dad a hug.
Karis Oglesby, a little girl, was among the crowd waiting to welcome her dad back home. She couldn't wait to give him a loving hug. As soon as she saw him in the crowd, she knew she had to act fast.
The little girl's act soon grabbed everyone's attention. The troops, who had just returned home, couldn't help but smile at the adorable sight. It was a moment of pure joy and love, a reminder of why they had been fighting and sacrificing for their country.
The heartwarming moment was captured on camera. In the video, which was shared by KKTV 11 News, you can see Karis running toward her dad, who is wearing his military uniform. As she reaches him, she wraps her tiny arms around his waist, giving him a tight hug. Her Dad, visibly moved by his daughter's affection, hugs her back.
The video quickly went viral on social media, with people all over the world sharing and commenting on the heartwarming moment. Many praised Karis for her bravery and love for her dad, while others thanked Daniel Oglesby and his fellow troops for their service to the country.
For Karis, the moment was a long time coming. She had been missing her dad ever since he had been deployed, and the thought of seeing him again had kept her going. Her mom, who had been a pillar of strength for her during the deployment, had told her that her dad would be coming back soon, and Karis had been counting down the days ever since.
Despite her young age, Karis knew the importance of her dad's job and the sacrifices he had made for their family and their country. She had missed her dad's hugs and kisses every day. But she had also seen the pride in her mom's eyes when she talked about her dad's work and had learned to respect and admire him for it.
For her father, the moment was a reminder of why he had chosen to serve his country. He had joined the military to make a difference, and to protect his fellow citizens. But he had also done it for his family, to provide for them and give them a better life. Seeing his daughter run up to him with open arms was the greatest reward he could ask for.