Man Builds a Tiny House for a Homeless Woman Who Was Sleeping in the Streets For a Decade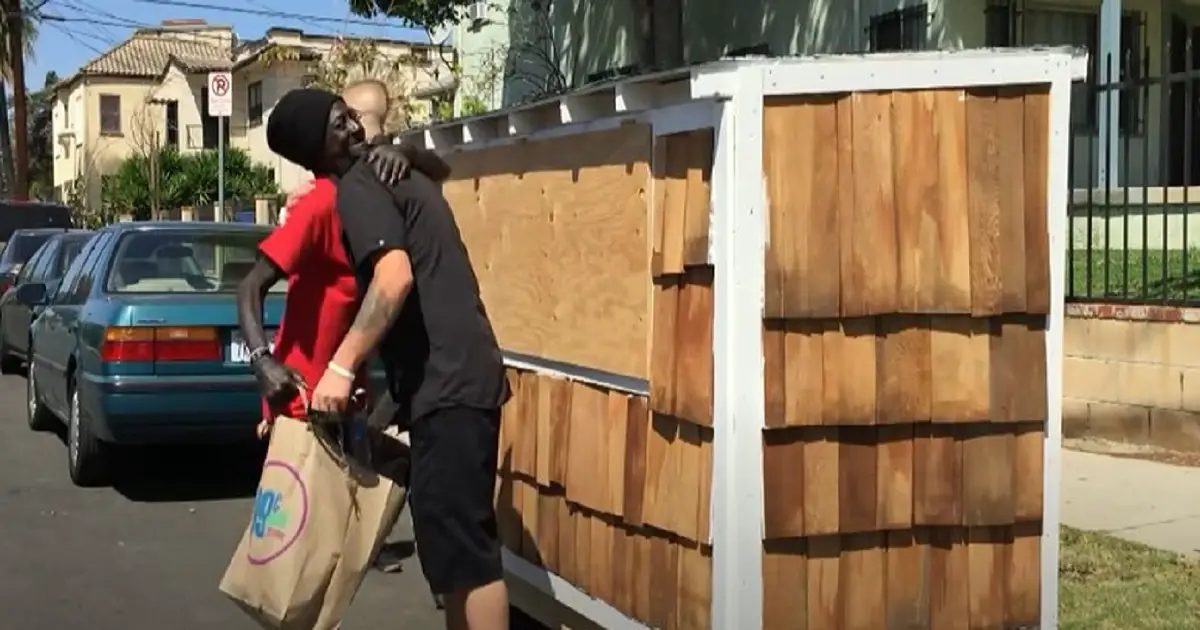 In a heartwarming act of compassion, a man named Elvis Summers has constructed a brand new home for a homeless woman who had been forced to sleep in the dirt for over a decade. The recipient of this incredible gesture is a 60-year-old woman known as Smokie. In just five days, Elvis Summers built a small, mobile home equipped with wheels, allowing Smokie to move around as needed. The cost of this remarkable project? Just $500. The inspiring story caught the attention of thousands worldwide when it was documented in a YouTube video uploaded to the channel "The Tiny House Project."
Irene "Smokie's" story is a tragic reminder of the struggles faced by many homeless individuals. For more than ten years, she endured the harsh realities of living on the streets, finding solace only in makeshift sleeping arrangements on the cold, unforgiving ground. This unstable and dangerous existence had taken a toll on her physical and mental well-being, leaving her with little hope for a better future.
Smokie had been living in the streets not far from Elvis' home and she used to stop by his place to ask if he had any recycles. After some time, they became friends. Witnessing her plight firsthand, he was deeply moved and resolved to take action. Recognizing the urgent need for safe and stable housing, he embarked on a mission to build Smokie a new home, one that would provide her with the dignity and security she deserved.
Elvis Summers drew inspiration from the tiny house movement, which emphasizes simplicity, affordability, and sustainability. Summers designed and constructed a compact, yet fully functional, mobile home for Smokie. This tiny house would not only provide shelter but also a sense of stability and empowerment.
With an unwavering determination, Summers worked tirelessly for five days to bring the tiny house to life. The structure was built on a trailer bed, allowing for easy mobility and flexibility.  She even has a sign "Home, Sweet Home" on her door.
Once the tiny house was completed, Smokie's life took a remarkable turn. For the first time in years, she had a place to call her own, a haven away from the perils of the streets. The mobile nature of the home allowed her to move to safer locations, enabling her to stay connected with essential services and support networks. The project not only transformed Smokie's life but also inspired countless others who came across the YouTube video chronicling the build.
Elvis Summers' kind action shows us that even small things can deeply affect someone's life. His commitment to helping people, along with the support of the community, demonstrates how powerful compassion and togetherness can be. The story of Smokie and her small house reminds us that our efforts, no matter how tiny, can have a huge impact on those who need help.