Mom of Twins Stuns World by Giving Birth to Triplets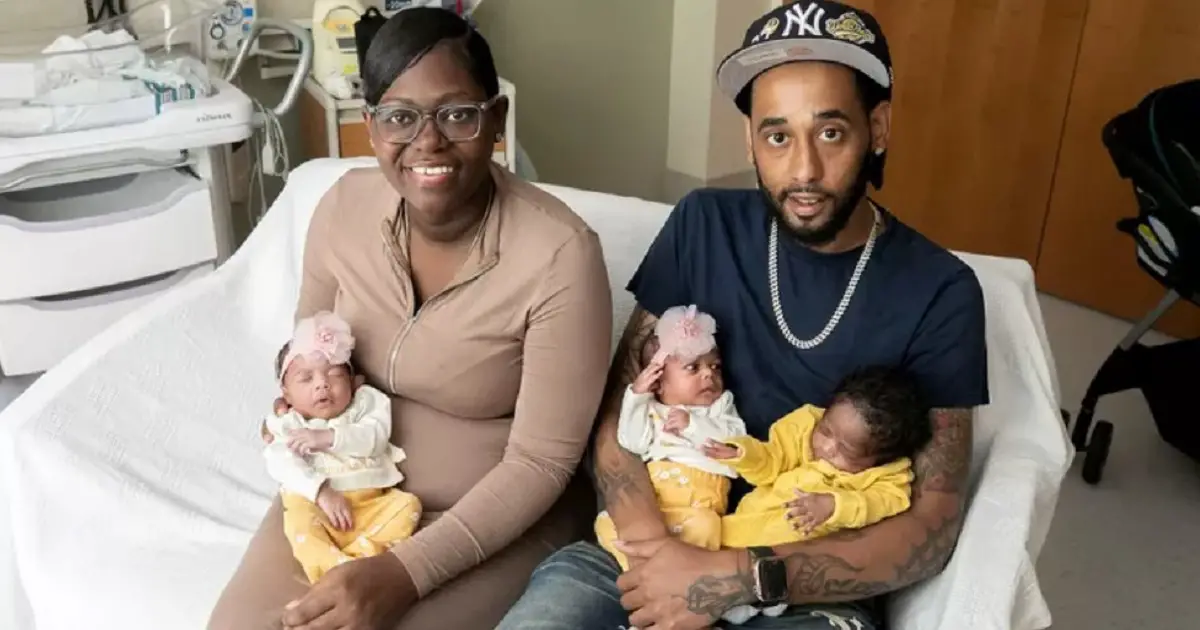 Monique Davaul, a resident of Newport News, Virginia, has embarked on a new chapter of her life as a mother. Just a few years after giving birth to twins, she now finds herself adjusting to life as a mother of triplets. On April 12, Davaul welcomed fraternal triplets into the world, two girls and a boy, expanding her family even further. Alongside her newborns, she is already a mother to twin boys, aged six, and an eight-year-old son.
Reflecting on her experience of raising twins, Davaul initially believed that taking care of three babies would be a breeze. However, her perspective quickly changed. She humorously remarked in the interview with Good Morning America, "I was like, 'It's easy.' So I guess maybe God said, 'You kept saying it was easy. I got something for you. Let's see what you can do with three.'" The journey towards motherhood took an unexpected turn when Davaul experienced severe illness during her pregnancy, leading her to suspect the possibility of having multiple babies once again. While multiple pregnancies do not run in her family, the twins' paternal grandfather is a twin himself.
Multiple births are relatively rare in the United States. Data from the Centers for Disease Control and Prevention indicates that in 2021, there were approximately 3,000 triplet births, whereas twin births accounted for about 114,000 cases. Davaul's situation becomes even more unique when considering that both of her multiple pregnancies occurred without the use of fertility drugs.
The Riverside Regional Medical Center in Virginia, where Davaul gave birth to her triplets, expressed their delight in being part of this extraordinary moment for the family. The hospital staff stated that they were filled with pride as they reflected on their involvement in this special moment for the family. Such moments served as a poignant reminder of why they cherished their role as nurses. Remarkably, Davaul's children are the first set of triplets born at the hospital since 2018, making their arrival all the more remarkable.
Despite the premature delivery at 33 weeks, Davaul's newborns, named Mielle, Jihad, and Noelle, spent several weeks in the neonatal intensive care unit before finally joining their mother at home just in time for Mother's Day. This joyous occasion marked the beginning of a new chapter in Davaul's life, one filled with the joyful chaos of raising six children.
Adapting to life as a mother of six has been made easier for Davaul thanks to her incredible support system. Alongside her three older sons, her twin boys Nasir and Sincere have played an instrumental role in helping their mother care for their younger siblings. Davaul expressed her gratitude, stating, "They are so excited and they try to help out. Nasir tries to sleep in the room with us, and they say, 'My baby brother, my baby sisters.'"
Monique Davaul's journey as a mother has taken an unexpected turn, with the arrival of triplets following her previous experience of raising twins. Her incredible story is proof of all the ups and downs that come with being a mom. With her loving family by her side, Davaul embraces this new chapter in her life with open arms, ready to embark on the incredible journey of nurturing and raising her six beautiful children.