My Little Miracle – A Cat Named Shadow
The story of Shadow, the little kitten with a rough start in life, is one that warms the heart and reminds us of the power of love and compassion. This story was originally published by The Animal Rescue Site.
Two years ago, Amber Smith's husband was working as a security guard at an apartment complex when he stumbled upon a group of teenagers kicking around a small, defenseless kitten. Upon closer inspection, he noticed that the kitten was only about four weeks old, had a burn on the back of his neck, and was severely underweight.
Despite already having six cats at home, Amber and her husband decided to take the kitten in and care for him. After nursing him back to health and trying to find him a new home, they quickly realized that they had become attached to the little guy and couldn't bear to part with him. They named him Shadow, and he quickly became an integral part of their family.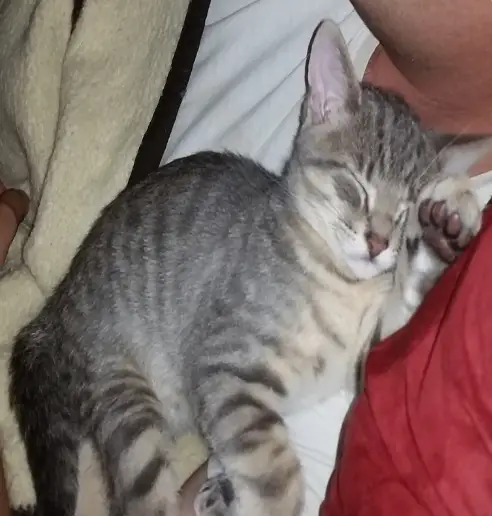 What's especially remarkable about Shadow is just how smart and loving he is. He loves to play fetch, enjoys hugs and kisses, and even jumps up on the counter to watch Amber as she cooks dinner. He's a unique cat with a personality all his own, and he's won the hearts of his owners and their other pets alike.
Perhaps most touching of all is how much Shadow has helped heal Amber and her family after a devastating loss. In 2010, they lost their daughter, and Shadow's sweet and childlike nature has brought them comfort and joy in ways they never could have anticipated.
This story is a testament to the power of love and compassion, and it's a reminder that even the smallest act of kindness can have a profound impact on both humans and animals alike. Shadow may have started out as a lost and lonely kitten, but with the love and care of his new family, he's become a beloved companion and a symbol of hope and resilience.