Pastry Chef Bride Faces Backlash for Making Her Own Wedding Cake
Weddings are a time of celebration, love, and coming together to create beautiful memories. However, one bride's decision to bake her own wedding cake has sparked a bitter controversy and divided opinions on social media. Lilly Kinman, a pastry chef, took matters into her own hands and crafted her own tiered creation for her special day. Little did she know that her efforts would lead to a storm of criticism.
Lilly and her husband, Dennis Mendoza, exchanged vows at a ceremony in Altamonte Springs, Florida, amidst an atmosphere of joy and anticipation. In a behind-the-scenes video that made its way onto TikTok, hairstylist Adrianna Thomas showcased the bride's journey as she built her own cake prior to saying her vows. The clip quickly went viral, amassing over 5.3 million views and sparking a heated debate.
The video revealed Lilly, dressed in a white robe and donning her perfectly styled hair and makeup, meticulously stacking layers of sponge that had already been iced in beautiful blue and white hues. With the assistance of her bridesmaids, she delicately secured each tier using a piping bag, adding extra icing for stability. Finally, she adorned her creation with an elegant flourish of decorative flowers, completing her unique wedding cake.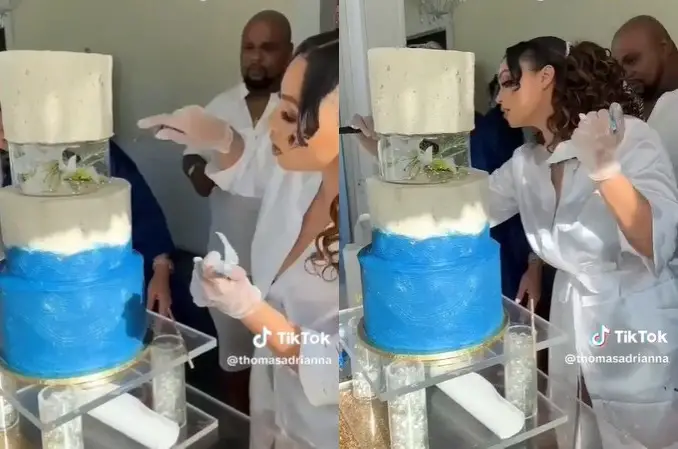 Adrianna, who shared the video, expressed admiration for Lilly's talent and dedication, emphasizing that not a single crumb had found its way onto the bride's pristine robe. However, viewers had differing opinions, resulting in a contentious comment section.
On one side, there were those who commended Lilly's skills and praised her for showcasing her culinary expertise on her special day. They marveled at the intricate design and the level of personalization that her homemade cake represented. Furthermore, they pointed out the significant cost savings that Lilly and Dennis would have enjoyed by bypassing the traditional route of ordering a wedding cake.
However, on the other side, critics emerged, slamming the cake as "ugly" and "messy". They argued that a professional pastry chef should have delivered a flawless masterpiece and that Lilly's creation fell short of their expectations. These individuals felt that a wedding cake should be picture-perfect and believed that hiring a professional baker was the only way to achieve that standard.
While it is understandable that people have different tastes and preferences when it comes to aesthetics, it is important to remember the true essence of a wedding. It is not solely about having a flawless cake; it is about the celebration of love and the coming together of two individuals and their families. In this case, Lilly showcased her passion and talent for baking, adding a personal touch to her wedding day. Her cake may not have satisfied everyone's visual standards, but it was a genuine expression of her creativity and love for her craft.
The decision to make her own wedding cake was a personal one, and Lilly should be applauded for her courage and skill. Weddings should be about celebrating individuality and embracing unique choices, even if they deviate from traditional expectations.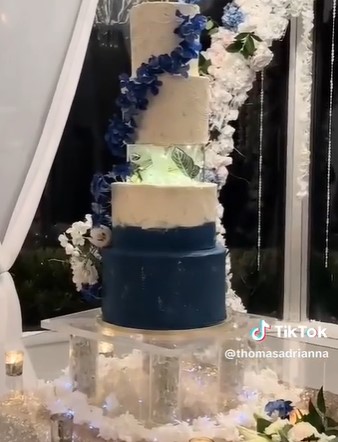 We think that it's not about what others think of the cake but the love and commitment shared by the newlyweds. Lilly's cake may have divided opinions, but it will forever hold a special place in her heart as a testament to her skills and the love she poured into her wedding day.