Retiring After 52 Years Train Driver is Moved to Tears as Last Shift Ends with Applause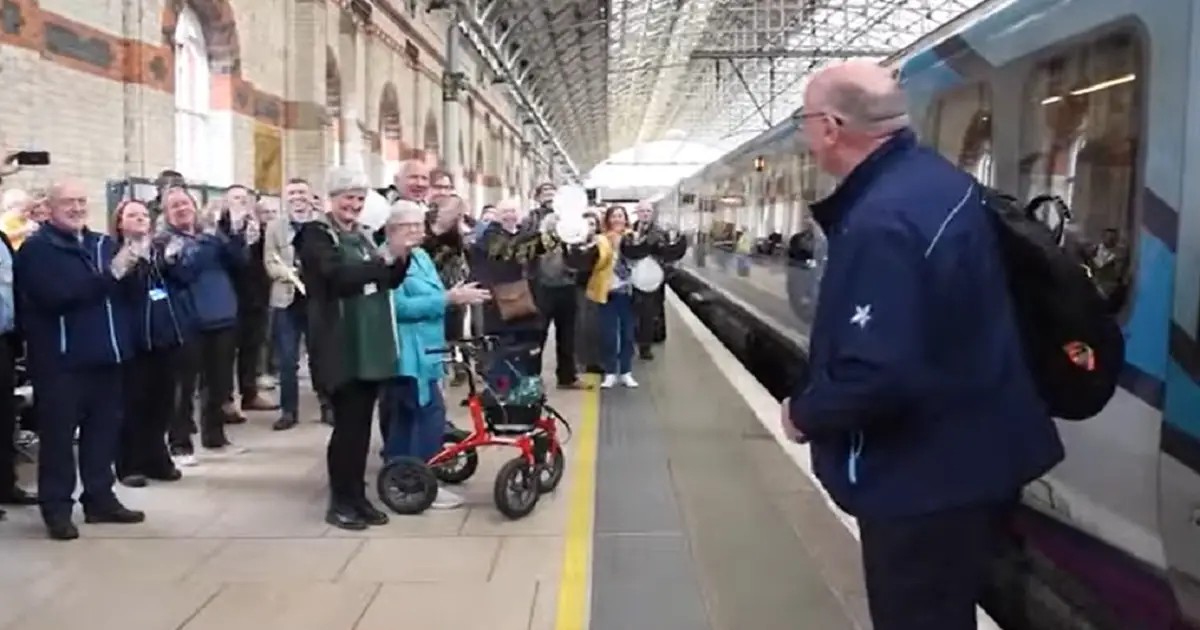 Joe Crean, a train driver from Glossop, Derbyshire, recently retired after an impressive 52-year career on the railways. As he completed his final shift, he was met with an unexpected and heartwarming surprise that moved him to tears. The moment was captured on video and quickly went viral, touching the hearts of people around the world.
Mr. Crean started working in 1971 and he dedicated more than half a century to his role as a train driver, ensuring the safe transportation of countless passengers. Throughout his career, he experienced the ever-changing landscape of the railway industry, witnessing technological advancements and facing various challenges along the way. His commitment and passion for his work earned him the respect and admiration of colleagues and passengers alike.
On the day of his retirement, Mr. Crean arrived on the Manchester Piccadilly platform, expecting a quiet and ordinary farewell. Little did he know that his last journey would be one he would never forget. As he pulled into the station, he was greeted by a crowd of railway staff, family, friends, and well-wishers who had gathered to honor his remarkable service.
As Mr. Crean stepped out of the locomotive, he was taken aback by the sight before him. The crowd erupted into thunderous applause, expressing their gratitude and appreciation for his decades of dedicated service. Overwhelmed by the outpouring of love and respect, tears streamed down his face. The emotion he displayed in that moment resonated deeply with all those present and the countless viewers who watched the video online.
The heartwarming scene serves as a testament to the impact that individuals can have on their communities and the lasting relationships that can be formed through work. Mr. Crean's commitment to his profession extended far beyond the mechanical act of operating a train. He touched the lives of his passengers, providing a sense of safety and comfort during their journeys. He built connections with his colleagues, forging a bond of camaraderie and support. And he became a beloved figure in the Glossop community, known for his warm smile and friendly demeanor.
The video of Mr. Crean's farewell resonated with viewers across the globe, reminding us of the importance of acknowledging and appreciating the efforts of those who serve their communities selflessly. It also serves as a poignant reminder of the value of human connection in a world that often feels disconnected.
As Mr. Crean embraces the next chapter of his life, he does so knowing that his legacy as a dedicated train driver will live on. His passion for his work and the impact he made on the lives of others will not be forgotten. The applause and tears that marked his last shift symbolize the gratitude and admiration felt by those whose lives he touched. As he told BBC: "I have over half a century of cherished memories on the railway, and it means a lot to have shared my final journey with both my family and my railway family. I'm looking forward to spending more time with my wife, Christine, my sons Gary and Shane, and extended family, who thoughtfully came to see my final drive."
Joe Crean's story serves as an inspiration to us all. It shows us that it is very important to celebrate the unsung heroes in our communities, to express our gratitude, and to never underestimate the power of a simple gesture. As we bid farewell to Mr. Crean's remarkable career, we should always remember that it is the people behind the scenes, like train drivers, who keep our world moving forward.