Sick Gorilla Dies in the Arms of a Man Who Rescued and Raised Her
Back in 2019, a heartwarming story about a mountain gorilla named Ndakasi went viral, capturing the hearts of people worldwide. Ndakasi was not your ordinary gorilla; she had a special talent for photobombing pictures and even taking selfies with the people she lived with in the national park. Her fun and playful demeanor made her a beloved figure in the hearts of everyone who encountered her.
Ndakasi's journey to fame and happiness began fourteen years ago in the forests of Congo. Tragically, she was found beside her lifeless mother, who had fallen victim to bullets from native hunters. Fortunately, she was rescued by the caring and dedicated park ranger, Andre Bauma. He made the courageous decision to bring Ndakasi to the national park, where she would be raised and given a chance at a new life.
Ndakasi's story was not an isolated one. Many mountain gorillas in the region faced a similar fate, orphaned due to hunting activities. Without their parents, these young gorillas would struggle to survive in the wild, exposed to harsh elements and vulnerable to predators.
Under Andre's watchful eye, Ndakasi thrived in her new home at the Senkwekwe Center in Virunga National Park. Andre's care and love extended beyond the duties of a park ranger; he became a father figure to Ndakasi, and they formed an unbreakable bond over the years. Her infectious joy and playful antics brought happiness not just to Andre but to everyone around her.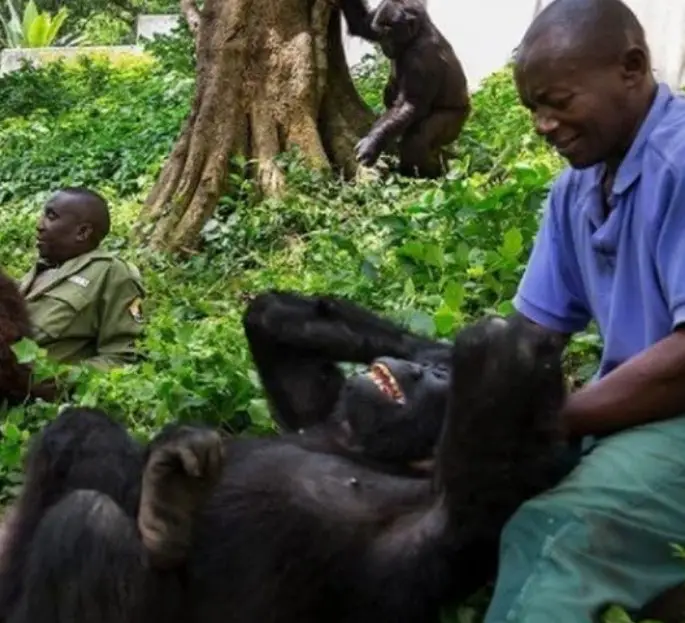 In 2019, Ndakasi's fame skyrocketed when pictures of her taking selfies with Andre spread across social media and the internet. Her adorable charm and genuine friendship with Andre resonated with people worldwide, making her an online sensation.
However, life took a somber turn for Ndakasi in recent years when she fell ill. Despite the best efforts of the park's caretakers and veterinarians, her condition worsened, leaving her frail and weak. In her final moments, Ndakasi found solace in the arms of the man who had saved her life and raised her as his own. The very person she had photobombed and taken selfies with was now her comfort and support.
Ndakasi's touching story reminds us of the importance of compassion and conservation efforts. Her journey from being an orphaned gorilla to a beloved member of the park's community is a testament to the power of human kindness and the impact we can have on the lives of endangered species.
Her story has brought attention to the critical need for protecting gorillas and their natural habitats. Through her fame, she helped raise awareness of the threats faced by these majestic creatures and inspired many to support conservation efforts.
Ndakasi's life was a beautiful example of the enduring bond between humans and animals. Regardless of species, all living beings can form deep connections based on love, care, and understanding.
As we bid farewell to Ndakasi, let her story serve as a beacon of hope, encouraging us to protect and cherish all the wonders of the natural world. By working together, we can ensure that future generations can witness the beauty of these magnificent creatures and the joy they bring to our lives.