The Incredible Story Behind The Iconic 'Kiss Of Life' Photo
The "Kiss of Life" photo is one of the most iconic images in the history of photography. The photo, taken by Rocco Morabito in 1967, captures the moment when a utility worker named J.D. Thompson gives mouth-to-mouth resuscitation to his co-worker Randall Champion, who had been electrocuted while working on a power line in Fort Worth, Texas.
The photo quickly became famous and has since been reproduced countless times in newspapers, magazines, and textbooks around the world. But behind the iconic image lies a truly incredible story of heroism, bravery, and the power of human connection.
On July 17, 1967, J.D. Thompson and Randall Champion were working on a power line in Fort Worth, Texas, when a mistake caused a live wire to come into contact with Champion's body. Champion was electrocuted, and his heart stopped beating.
Thompson, who had been working nearby, quickly sprang into action. He climbed up to Champion's unconscious body, and with the help of another worker, lowered him to the ground.
Thompson then began to administer mouth-to-mouth resuscitation to Champion, using a technique that he had learned as a Boy Scout. He blew air into Champion's lungs, trying to restart his heart and restore his breathing.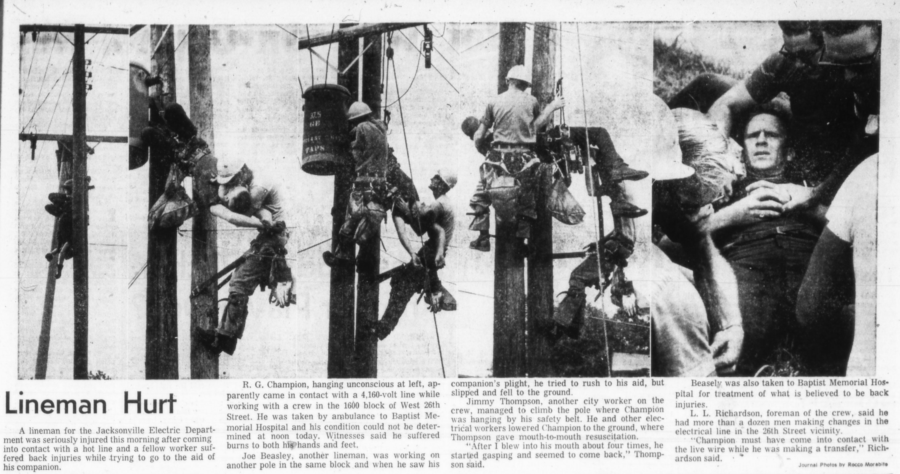 The other workers on the scene watched in amazement as Thompson continued to work on Champion, refusing to give up even as his own strength began to fail. For more than 20 minutes, Thompson worked tirelessly, blowing air into Champion's lungs and keeping him alive until the paramedics arrived.
The paramedics were amazed by Thompson's heroic efforts and were even more amazed when they saw the state of Champion's body. Despite the severity of the electrical shock that he had received, Champion was still alive, thanks in large part to Thompson's quick thinking and unwavering dedication.
Morabito, a photographer for the Fort Worth Star-Telegram, happened to be on the scene and captured the moment when Thompson gave Champion the "Kiss of Life" on film. The photo, which shows Thompson leaning over Champion's body, his mouth pressed against Champion's, has become an enduring symbol of heroism and human connection.
But for Thompson and Champion, the story didn't end there. Both men went on to recover from their injuries and became lifelong friends in the process. They traveled around the country together, sharing their story of survival and inspiring others with their message of hope and resilience.
For Thompson, the experience of saving Champion's life had a profound impact on him, and he continued to work as a utility worker for many years, always remembering the importance of safety and the power of human connection.
Today, the "Kiss of Life" photo continues to inspire people around the world, reminding us of the incredible bravery and selflessness that can emerge in the face of tragedy. It serves as a powerful reminder of the importance of human connection, and the incredible things that can happen when we come together to support one another in times of need.
The story of J.D. Thompson and Randall Champion is a testament to the resilience of the human spirit and a powerful reminder of the strength that can emerge when we are called upon to act with courage and compassion. It is a story that reminds us that even in the darkest of times, there is always hope and that the power of love and human connection can overcome even the greatest of challenges.