Generous Cop Surprises Boy Selling Lemonade With An Unexpected Act Of Kindness
A simple act of kindness can go a long way, and for one young boy in Connecticut, that kindness came from an unexpected source – a police officer.
On September 3, 2022, Landen, a young boy in grade school, set up a lemonade stand in front of his house to earn money for a new pair of shoes. He had been wanting a new pair of shoes for a while, but his family couldn't afford to buy him a new pair. Landen hoped that by selling lemonade, he would be able to raise enough money to buy the shoes he wanted.
As the day went on, Landen was surprised when a police officer stopped by his stand to buy a cup of lemonade. The officer, Joel Perez of the Ansonia Police Department, struck up a conversation with Landen and asked him why he was selling lemonade. When Landen explained that he was trying to earn money for new shoes, Officer Perez was touched by his determination. As it turned out, Landen needed those shoes for school. Officer Perez asked him his shoe size and left. 
Moments later, he returned to Landen's lemonade stand, but this time he had a surprise for him. He handed Landen a brand new pair of blue sneakers that he had gone out and bought himself. Landen was overwhelmed with gratitude and thanked Officer Perez for his kindness. The little boy's eyes were full of joy.
The heartwarming moment was captured on camera and shared on social media by Wendelyn Narvaez, Landen's grandmother. The post quickly went viral, with thousands of people sharing and commenting on the touching story.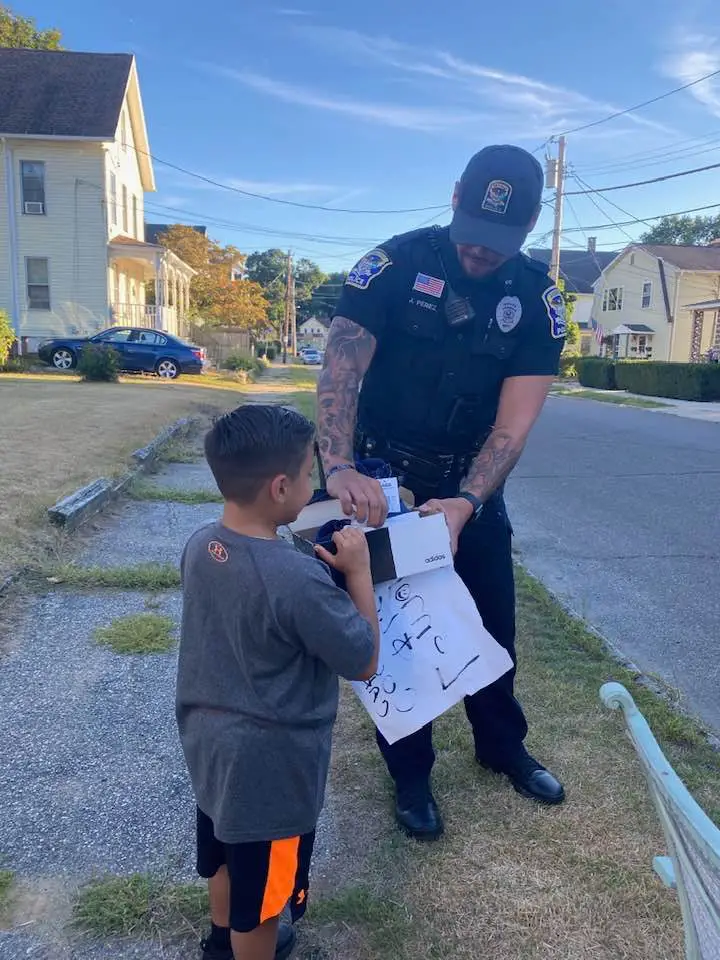 "The smile in Landen's face is priceless.  Much thanks to Officer Joel Perez Ansonia Finest PD for helping with my baby when he was selling Lemonade to get his own blue sneakers for school. Landen and I thank you from the bottom of our heart." – said Wendelyn Narvaez in her post.
Many people praised Officer Perez for his generosity and kindness, with some even calling him a hero. But Officer Perez insists that he was just doing his job and helping out a member of his community.
"I am honored to work for such a great community. Giving back is not only a blessing but a daily reminder of where I came from. Landen, I hope you enjoy your new sneakers and never forget how great of a kid you are. May God bless you and continue protecting you and your family!" – He posted.
The story of Officer Perez and Landen's lemonade stand shows us that even small acts of kindness can make a big difference in our communities. Sometimes we hear a lot of negative things, but stories like this remind us that there are still good people who are happy to help others. A single act of kindness has the power to put a smile on someone's face.
The little boy's determination and hard work deserve praise! He didn't give up on his goal of getting a new pair of shoes. Instead, he took matters into his own hands and found a way to earn the money he needed. His perseverance paid off in more ways than one, as he not only earned money for his new shoes but also received a gift from a kind stranger.
We absolutely love Landen's story because it reminds us that no matter how young or small we may be, we can still make a positive impact on the world around us. His determination to buy new shoes and willingness to work hard by selling lemonade is truly inspiring. It also warms our hearts to see Officer Perez going out of his way to support and encourage Landen's entrepreneurial spirit. And who knows, maybe Landen's lemonade stand story will inspire others to find their own unique ways of making a difference in their communities.